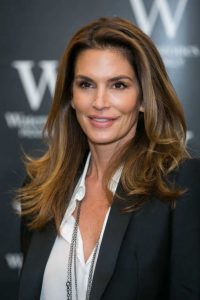 American actress and model Cindy Crawford got her start as a model, ultimately landing international fame as one. This paved the way for an acting career. She made her television debut as the host of MTV's House of Style. In 1990, she made her movie debut in Awwal Number. Her first starring role on the big screen was in Fair Game where she starred opposite William Baldwin.
Her last movie role was in 2001's The Simian Line. In the 2000s, she was featured in the documentary Headliners and Legends: Cindy Crawford. She later guest-starred in an episode of the Disney series Wizards of Waverly Place. In the 2010s, she appeared as herself in the shows Who Do You Think You Are?, Cougar Town, The Hospital In The Sky, and Lip Sync Battle.
The international model and actress stays in shape by following a clean diet plan. In an interview with Women's Health, Cindy got more candid about her eating habits. She said: "On a typical weekday, I usually have a protein shake for breakfast because it's fast—I need to get the kids out the door—and then I go right to work out. I find that sometimes if you eat you have to take extra time to let it settle."
She continued: "And then for lunch, I'll have salad, sometimes with chicken, sometimes without. For dinner, we'll go for sushi. Or if we eat at home, I'll try to make a meal like turkey meatballs with pasta, a salad, and a vegetable." She also avoids caffeine most of the time and drinks green tea instead of coffee in order to rectify some of her stomach issues. Overall, she says she eats pretty much healthily. "Diet-wise, I don't eat crap, and I don't eat a lot of packaged foods," she explained.