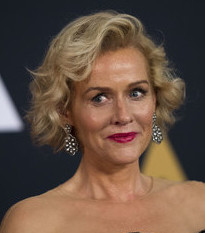 In 1987, actress Penelope Ann Miller made her acting debut in the film Hotshot. She also played Gwen Stottlemeyer in the television series The Popcorn Kid that same year. She next appeared in the films Adventures in Babysitting, Biloxi Blues, and Miles from Home, among others. In the 90s, Miller landed roles in several movies, including Awakenings, Kindergarten Cop, Carlito's Way, and The Shadow. Also, she portrayed Edna Purviance in the biographical film Chaplin. In 1998, she played Erica Hewitt in the TV police drama The Closer.
In the following decade, the actress landed more roles on the big screen. During this period, she had performances in the films Lisa Picard Is Famous, Along Came a Spider, The Messengers, and Free Style. During this period, she also starred as Molly Hooper in the Fox series A Minute with Stan Hooper, as well as played Jessica Nevins in Vanished. Between 2009 and 2011, she starred as Sonia Tranelli in TNT's Men of a Certain Age. More recently in the 2010s, Miller had performances in such films as Flipped, Saving Lincoln, The Artist, The Birth of a Nation, and American Dresser. Simultaneously, she played recurring role Elizabeth Grey in Mistresses and Eve Carlin in American Crime.
Penelope Ann Miller keeps in top shape by living a healthy lifestyle. She exercises and eats clean, organic foods most of the time. Simply living healthily is also how she stays youthful. She doesn't follow any strict diet plans but she does eat conscientiously, which means processed foods are rarely part of her dietary regimen. "Hopefully, you can maintain your looks. For me, I just try to be as healthy as possible, I try to eat well and exercise, I try not to get too stressed out and I try to get my rest, even though I have two young girls," said the actress.