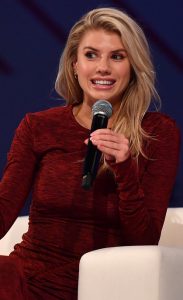 Charlotte McKinney first came to prominence as a model, specifically on Instagram. She gained much attention after appearing in a commercial for Carl's Jr.'s All Natural Burger. After a successful run in the modeling industry, she decided to pursue acting. She first appeared in an episode of the British series Doctors. Her next role was in the 2007 short film The Diary of Tommy Crisp. She landed more roles in the 2010s, first in the short video Thresholds. In 2015, she was a contestant on Dancing with the Stars.
That same year, she starred in the direct-to-video movie Joe Dirt 2: Beautiful Loser, as well as appeared in an episode of Doctor Foster. The following year, she played a small role in the film The Late Bloomer and appeared as herself in Lip Sync Battle. 2017 was a great year for McKinney — she had performances in several movies, including Mad Families, Literally, Right Before Aaron, Baywatch, and Flatliners. She then appeared in an episode of Growth. Her latest work on television was a guest appearance in MacGyver. Some of her upcoming films are Fantasy Island and The Argument.
Apart from her active lifestyle, which involves an extensive workout routine, the model-actress maintains a healthy figure by eating right. She eats clean, unprocessed foods to ensure her body gets all the nutrients it needs. "My fav go-to healthy food would be any kind of fresh fish (I have many great options living in Miami) or anything with quinoa," said the actress.
" I keep a consistent diet of lean proteins to keep me full & energized through the day." Of course, she also relies on a good night's rest and keeping herself hydrated when it comes to keeping her overall well-being so she makes sure she always drinks plenty of water. She also prefers good 'ol H20 rather than sugary drinks.