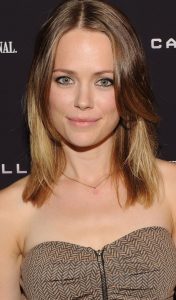 Katia Winter is an actress from Sweden. She debuted as a film actress in 2005's Stockholm Boogie where she played a minor role. She also played a small part in the Swedish movie Storm. Around the same time, she had her first television role in an episode of Dubplate Drama. In the next few years, the actress had performances in the films Night Junkies, The Seer, and Unmade Beds. She later starred in the British feature Malice in Wonderland.
She later guest-starred in an episode of Lewis. Around this period, Winter also landed some roles in short films. Her career in the 2010s proved to be more prolific. Between 2010 and 2011 alone, she had roles in 4 films: The Symmetry of Love, Anaphylaxis, Arena, and Everywhere and Nowhere. Afterward, she played Nadia, a recurring character in the American series Dexter. She next appeared in the television movie Crimes of Passion: Tragedy in a Country Churchyard.
Winter simultaneously had roles in the films Banshee Chapter and Fedz. She also became known for her starring role as Katrina Crane in the Fox series Sleepy Hollow. In 2015, she played the role of Katia in Terrence Malick's experimental drama film Knight of Cups. She subsequently played Freydis Eriksdottir in 2 episodes of Legends of Tomorrow. In 2019, she started starring the role of Gwen Karlsson in the CBS series Blood & Treasure.
Katia Winter makes conscious efforts to eat healthily. As an actress who needs to be present during long shoots, that's not always an option. She tries her best to eat nonetheless. "It depends what's available when I'm out shooting and filming. If I had a choice, I love making smoothies, or having some fresh fruit and some good snacks. A smoothie with banana, kale, blueberries and almond milk is so good," said the actress. She also loves kombucha and she eats lots of salads as part of her day to day.