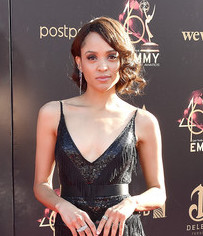 Hollywood actress Sal Stowers had her career beginnings in the mid-2000s. She made her film debut appearing with a small role in 2006's Talking with the Taxman About Poetry. That same year, she also appeared in two episodes of Ugly Betty. After a hiatus, she returned to acting in the 2010s, making one-time parts in such television shows as The Exes, Mr. Box Office, and New Girl. She also starred in the short film Jaded the Series.
Stowers gained recognition after she got the role of Cassandra Foster in the daytime soap opera All My Children. After this, she guest-starred in Switched at Birth and Major Crimes. She became further known among television audiences for her role as Lani Price in the soap opera Days of Our Lives, a role she has been playing since 2015. At the same time, she appeared in 5 episodes of the show Caged, as well as guest-starred in The Fosters. The actress also starred in the 2017 independent film Tomboy.
Sal Stowers keeps herself in top shape by practicing a vegan diet. "I follow a vegan plant-based diet. I'm a big smoothie person and they're my go-to in the morning. I always put some type of plant milk first; oat milk is my favorite," said the actress. "I do some type of plant-based protein, then I usually put in a handful of frozen blueberries, a handful of spinach, I'll do a half of a banana, I'll put in some MCT coconut oil, chia seeds or hemp seeds, and even a spoonful of almond butter or peanut butter, whichever one I'm feeling."
Lunch for the actress is typically a salad with kale and collard greens as her favorite leafy veggies. "I love avocado in my salad. I'll put in tomatoes, cranberries, pine nuts or cashews, whatever kind of nuts I have in the house. And I'm a big fan of homemade dressings. If I want the salad to be a little bit more filling, I'll add in some type of grain, like quinoa," she added. For dinner, she usually makes a kind of veggie pasta using gluten-free noodles and plant-based meat.