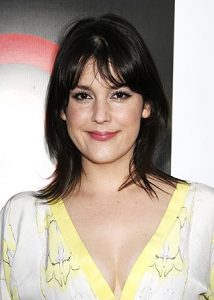 Hollywood actress Melanie Lynskey had her career beginnings in 1994, debuting in Peter Jackson's Heavenly Creatures. She worked with the director again in the 1996 film The Frighteners. She next had roles in the films Ever After and But I'm a Cheerleader. In the 2000s, she played supporting roles in several movies, including Coyote Ugly, Sweet Home Alabama, Flags of Our Fathers, Up in the Air, and The Informant!, to name a few.
On television, she gained recognition for playing Rose in Two and a Half Men between 2003 and 2015. She also played Wendy Patrakas in some episodes of the Fox series Drive. In the 2010s, she got into voice acting as well, working on the shows The Life & Times of Tim and Over the Garden Wall. She next starred as Michelle Pierson in the comedy-drama series Togetherness.
During this period, Lynskey also had performances in several feature films, including Seeking a Friend for the End of the World, The Perks of Being a Wallflower, They Came Together, We'll Never Have Paris, and The Intervention. She was also praised for her performance in 2012's Hello I Must Be Going. Her latest film role was in 2018's Sadie. Also, she had recurring roles on the TV shows Girlboss, Wet Hot American Summer: Ten Years Later, Sunshine, and Summer Camp Island. She went on to play Molly Strand in the Hulu series Castle Rock. This year, she starred as Rosemary Thomson in the miniseries Mrs. America.
For a long time, Melanie Lynskey struggled with her body. The pressures to be skinny in Hollywood didn't help, of course. In an interview, she confessed that it got worse to the point that she developed serious eating issues, which ultimately became a health risk.
"I was losing my mind trying to conform to something that was not physically possible for me. was very unwell for a long time. I had eating issues and at a certain point I was like, 'I'm not going to survive,'" said the actress.
She now knows better. Instead of worrying about her weight, she focuses on eating clean, healthy foods to nourish and strengthen her body. Her diet plan combines lean meat, complex carbs, and plenty of fruits and vegetables.