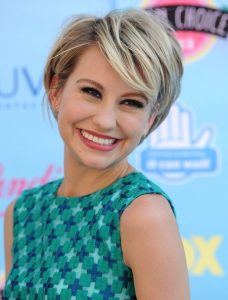 Hollywood star Chelsea Kane debuted in the straight-to-video film Arizona Summer in 2004. That same year, she also had her first television appearance on Listen Up!. She also appeared in the pilot episode of the show Summerland. In 2007, she made her cinematic debut as Meredith Baxter Dimly in the film Bratz. She later starred in the Disney Channel Original Movie Minutemen. She then landed her first starring role on the small screen — playing Stella Malone on the Disney show Jonas. After this, she starred in another Disney TV film Starstruck.
From 2010 to 2014, she was the voice of Bea Goldfishberg on the animated series Fish Hooks. She also starred on the TV movie Lovestruck: The Musical. In 2011, she joined the show Dancing with the Stars as a contestant for its Season 12 where she placed third. Following this, she had a recurring role as Tara Richards on One Tree Hill. From 2012 to 2017, she became more famous for starring as Riley Perrin on the sitcom Baby Daddy. As of 2018, she voices Jen Sanders on the animated series Hot Streets. Other guest appearances were on Drop Dead Diva and CSI: Crime Scene Investigation.
Aside from her healthy eating habits, the 30-year-old actress remains fit and strong thanks to her active lifestyle. While she admits that she does not really spend much time working out in the gym, she makes it up by moving a lot through her acting work. Even as simple as doing errands can be counted as exercise. Interestingly, her stint on Dancing with the Stars where she was a contestant served as a great workout for her. Obviously, it had something to do with the fact she danced a lot during this time. Even the actress herself noticed some changes in her body courtesy of her dancing. "There are muscles where there weren't any [before], and it's been fun to kind of see the transformation," she said.