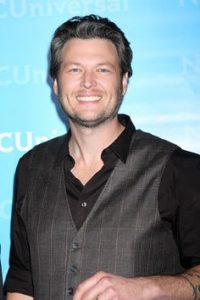 American singer and TV personality Blake Shelton released his first single "Austin" in 2001. The lead single of his self-titled debut album, the song spent five weeks at Number 1 on the Billboard Hot Country Songs. The album also generated the songs "All Over Me" and "Ol' Red", which were also top hits. Following this, he released The Dreamer and Blake Shelton's Barn & Grill, his second and third albums, respectively; both of which were successes, too.
Shelton's fourth and fifth albums are Pure BS in 2007 and Startin' Fires in 2008. At the same time, he appeared in the reality competition Nashville Star as one of the judges. In the 2010s, he was a co-host on Academy of Country Music Awards until 2015. Since 2011, he's prominently known as one of the judges in the NBC singing competition The Voice.
He went on to appear as a guest host on Saturday Night Live. In addition, Shelton also guest-starred in an episode of the ABC sitcom Malibu Country, as well as lent his voice for the role of Buck Masters in Bounty Hunters. Meanwhile, Shelton's latest album, Texoma Shore, was released in 2017. It has the lead single "I'll Name the Dogs".
To stay fit and healthy, The Voice judge and coach tries his best to work out on the treadmill and eat healthy meals. Usually, it's protein-rich foods during the day with salads. He also tries his best to snack on fruits whenever he can. Still, the country singer also has indulgences, which he allows himself to have, especially when there's no time to get something healthier.
"It could be 2 o'clock in the afternoon before I eat and then I realize I'm starving, so then it's a bag of Cheetos," he said. "And there's a Sonic in town, they got jalapeno poppers. And then I'm not hungry again until 10 o'clock, well what's in there? Fish sticks. And like a big pickle, those pickles that come in its own package with juice? It is really bad."