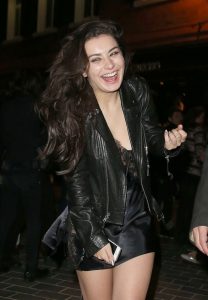 Charli XCX's professional recording career began after being signed in 2010. Three years later, she released her first studio album True Romance. Her subsequent album Sucker released in 2014 became more successful. It generated the songs "Boom Clap", "Break the Rules", "Doing It" and "Famous". "Boom Clap", particularly, became internationally famous, increasing her prominence as an artist. In 2017, she released two EPs – Number 1 Angel and Pop 2. The singles "Boom Clap" and "Doing It" placed her in the Top 10 of the UK Singles Chart. She was also featured in Icona Pop's "I Love It", with the song reaching atop the UK chart. her collaboration with Iggy Azalea in the single "Fancy" also landed her a Number 1 spot on the Billboard Hot 100.
The 25-year-old singer confessed that she's not the type of person that works out regularly at a gym. According to her, exercising that way isn't her thing. In an interview, she said that she works out by performing. She said: "Performing is my favourite workout. I do go pretty hard on stage. The gym is not my scene. I did an Insanity workout on tour for a while. It was hilarious." Fans of the singer can testify to the fact that she performs pretty intensely. With lots of physical movements, she's right to say that it can be considered a workout.
She then joked: "Does pizza-eating count as a sport?! That's good for biceps, surely? Lift and bite!" Based on this, it seems that the singer doesn't really follow a specific workout routine. She doesn't go to the gym on a regular basis like many other celebrities. Her physical activity relies on basically her dancing and singing. As she said in the aforementioned interview when she performs, she does it vigorously, so by doing this she already burns a lot of calories.