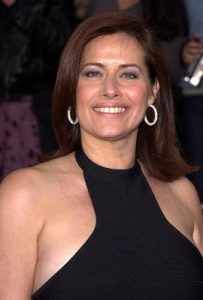 Hollywood star Lorraine Bracco debuted in 1979. The following decade, she appeared in the films The Pick-Up Artist, Someone to Watch Over Me, Sing, The Dream Team, and Sea of Love. In 1990, she achieved fame for her role as Karen Friedman Hill in Martin Scorsese's Goodfellas. For her performance, she earned Academy Award and Golden Globe nominations for Best Supporting Actress.
She later starred in the movies Talent for the Game, Switch, Medicine Man, Radio Flyer, Races of Red, Even Cowgirls Get the Blues, Being Human, The Basketball Diaries, Hackers, and The Liars, among others. She then became a television staple thanks to her role as Dr. Jennifer Melfi on The Sopranos. Her work on the show had garnered her Primetime Emmy nominations.
Also in the 2000s, she had roles in the movies Riding in Cars with Boys and Tangled. In the 2010s, she's best known for starring as Angela Rizzoli on the TNT series Rizzoli & Isles. More recently, she played Mayor Margaret Dutton on Blue Bloods. Meanwhile, her latest work on the big screen was in the 2016 film Monday Nights at Seven.
The actress has struggled with her weight recently but she's since managed to return to her healthier shape. After a substantial weight gain, she realized the importance of her eating habits and how crucial it was for her to make necessary changes.
"I look at food in a very, very different way now. I ask how food is going to help me. I used to just shove food in my mouth and didn't care. Now, I look at food and think: "Are you going to benefit me? Are you going to help me grow old? Are you going to make me have energy?" If not, I'll find a substitute," said the actress. She has since lost 35 pounds in a year and intends on keeping it that way.