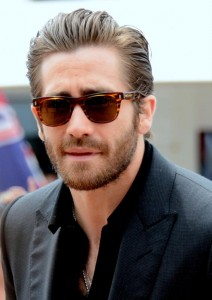 Jake Gyllenhaal is a 35-year-old Hollywood actor who first gained recognition for his starring role in the 1999 movie October Sky, which actually was his first starring role. His performance as the titular character in Donnie Darko earned him further prominence in the early 2000s. Over the years, the son of director Stephen Gyllenhaal and screenwriter Naomi Foner and the younger brother of actress Maggie Gyllenhaal, has starred in several well-known films, making him one of the most recognized American actors in the world. He's also an Academy Award-nominated actor for his role in Brokeback Mountain opposite late actor Heath Ledger. His most recent movies are Southpaw and Everest.
Gyllenhaal is not only famous for his knack for acting, he's also famous for looking good and looking fit. He's also one of the few actors in Hollywood who can lose weight for a film role and gain back weight for another film commitment in quite short a duration, which strongly suggests his strong focus and discipline when it comes to his diet plan. We also saw his transformation in the film Prince of Persia: The Sands of Time (2010), in which he managed to look notably buff than his normal self. We were also surprised when he lost 30 pounds for his role in Nightcrawler.
But what's the actor's diet plan when he's just being his normal self? Being a physical fitness enthusiast, Jake makes sure that he eats healthy. In the morning, he usually has a banana and makes sure he intakes a few dry fruits with nuts to complete his dietary requirement. Of course, an espresso completes any man's breakfast routine. Because he focuses on nutrition rather than the quantity of food, he opts for a light lunch combining some baked potato, tuna, and salad. At night, he maintains light meals by only having some soup or protein shake. Part of his daily regimen is drinking two liters of water. Because he avoids any food containing refined sugar, he munches some dark chocolate and protein bars for snacks. Surely, Jake takes his dietary regimen very seriously.