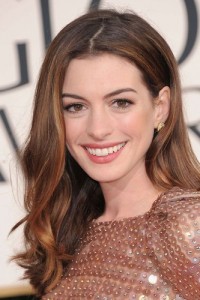 33-year-old Anne Hathaway has come a long way since her Princess Diaries days. Though she first achieved fame for her role in a Disney movie, the actress has since looked for challenging roles and has proved herself to be very versatile. After starring in Ella Enchanted, she surprised her fans when she took a more adult-oriented role in Ang Lee's Brokeback Mountain where she had a frontal nudity. This surely wasn't the last time.
In 2008, she proved herself as a high-caliber actress when she received an Academy Award nomination for her performance in the drama Rachel Getting Married, but it was her performance as Fantine in Les Misérables that won her her first Academy Award for Best Supporting Actress. Her most recent movies are Interstellar and The Intern. As an actress, it's not unusual that she manipulates her weight to play a role. The most notable being in Les Misérables where she lost 25 pounds.
Normally, the actress relies on vegetables as part of her main diet. This is recommended by her dietitians to make sure she keeps fit and healthy at the same time. Through this, she avoids getting unnecessary fat. Anne also favors kale and cabbage the most as these two leafy veggies are mostly present in her meals. Because she's into veggies more, that means that she avoids eating foods packed with proteins and carbohydrates.
In addition, the actress is not a fan of processed foods for the obvious reason that these are unhealthy. Anne makes sure she gets sufficient anti-oxidants on her body as she cooks the vegetables herself. Every time she feels she wants to eat more, she consumes fruit juices instead and a special kind of milk that's supplemented and prescribed to her. With this, it just shows that the Academy Award-winning actress takes her diet plan seriously and doesn't deviate from her actual dietary regimen.