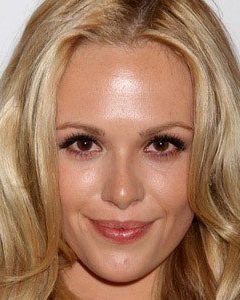 Canadian star Natalie Hall had her career beginnings in 2004. Her first role was in the low-budget film Have You Heard? Secret Central. Some years later, she made her television debut in one episode of Law & Order: Special Victims Unit. After this, she guest-starred in an episode of The Good Wife. Her first notable work on the small screen was as Colby Chandler in the soap opera All My Children.
She played the said role from 2009 to 2011. At the same time, she starred in the film Rising Stars, as well as in the TV movie Love's Christmas Journey. From 2011 to 2012, Hall also became known for playing the recurring character Kate Randall in Pretty Little Liars, after which she starred in the TV movie The Seven Year Hitch. In 2013, she appeared in the feature film +1, as well as guest starred in CSI: Crime Scene Investigation. Hall next played Britney in 3 episodes of Drop Dead Diva.
The following year, she starred as Taylor Beecham in the ABC series Star-Crossed. She simultaneously played Amber Mills in True Blood and Candy Coco in Unreal. Additional work on TV include a 3-episode role in Shades of Blue. Hall continued acting in the movies, too. She had performances in such films as Lucky N#mbr, Simple Little Lives, The Curse of Sleeping Beauty, Summer of 8, The Boy Downstairs, and Only the Brave. More recently, she starred as Lucy in the 2018 remake of Charmed. She next starred in the Hallmark film A Winter Princess.
Natalie Hall stays in shape by following a clean diet plan. She has since reduced her consumption of sugar and dairy, which she has found to work on her body. Her typical diet plan consists of lean proteins, whole grains, fruits, and vegetables. In between meals, she snacks on healthy ones as well, like almonds, fruits, and smoothies, among others.