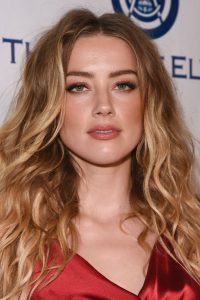 Amber Heard is an American actress whose career in Hollywood started in 2004 with the sports drama Friday Night Lights. She followed this with more roles in numerous films, but her first lead role was in the independent film All the Boys Love Mandy Lane where she played the titular character. This got her notice, which then led her to land roles in Never Back Down, Pineapple Express, Zombieland, and The Stepfather. Her first big break, however, was as Johnny Depp's female lead in The Rum Diary, a role she had won among other A-list actresses. In the 2010s, she has starred in The Adderall Diaries, Magic Mike XXL, and The Danish Girl.
Apparently, Amber is pretty enough to be noticed in many of the films she were in. Aside from her beautiful face, her body is also noticeably slender yet curvaceous that she's one of those actresses in Hollywood who we can surely call "hot". Though she's blessed with amazing genes, Amber isn't complacent with her body. For her role in the short-lived television series The Playboy Club, she exerted more efforts to make sure she look like the part. After all, she portrayed a Playboy Bunny.
To fit into her costumes, she must practice self-imposed discipline as a way of taking care of herself. Aside from working out by running and doing Pilates, she was careful of her eating habits. According to the celebrity, she was cautious of what she ate and drank. Until now she is. She's not pretentious of how she got her sexy look, admitting that her body is something that she worked hard for, unlike other actresses who claim that they don't diet and do many exercises to achieve a slim figure. "There's no 'I don't diet, I eat what I want, and this is how I look,'" said the pretty-faced actress.