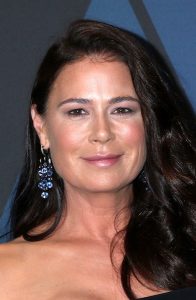 Hollywood star Maura Tierney debuted in the 1987 television film Student Exchange. The following year, she starred as Jillian in the sitcom The Van Dyke Show. Later in 1991, she made her big screen debut in the film Dead Women in Lingerie. This was followed by roles in such films as The Linguini Incident, White Sands, and The Temp. In 1994, she appeared as Cherlyn Markowitz in 5 episodes of 704 Hauser.
Tierney then became known for starring as Lisa Miller in the NBC sitcom NewsRadio, which she starred in from 1995 to 1999. It was, however, her role as Dr. Abby Lockhart in ER that gained her prominence. For nearly a decade, she portrayed said character on television. Also in the 1990s, she had performances in the films Primal Fear, Liar Liar, Primary Colors, The Thin Pink Line, and Forces of Nature, among others. In the 2000s, the actress became more active on the big screen.
During this period, she had starring roles in the movies Scotland, PA, Insomnia, Melvin Goes to Dinner, Welcome to Mooseport, Diggers, The Go-Getter, and Semi-Pro, and Baby Mama. From 2009 to 2011, the actress played Kelly McPhee in Rescue Me. She next starred as Kathryn Peale in the TV drama The Whole Truth. From 2012 to 2013, she played Maddie Hayward in The Good Wife. She recently became know for her role as Helen Solloway in The Affair. Her latest film roles were in Beautiful Boy and The Report.
Maura Tierney eats well to maintain a healthy figure, however, she also admits it's not easy all the time. "I would love to eat healthier, as well, but that's hard some- times when you're busy. I think a holistic approach to well-being is the smartest thing," said the actress. As for her workout routine, she's quite active. "Exercising is one con ned time where I get to listen to music and move my body," shared Tierney. Her fitness regimen includes Pilates, running, and lots of walking.