Early Career and Singing & Acting Success
Demetria Devonne "Demi" Lovato was born on August 20, 1992 in Albuquerque, New Mexico to engineer and musician Patrick Martin Lovato and former Dallas Cowboys Cheerleader Dianna Lee Hart. Her parents divorced when she was two. She grew up in Dallas, Texas and along with friend Selena Gomez, she began her acting career in the children's show Barney & Friends as Angela from 2002 to 2004.
At the age of seven, she started playing piano and by the time she was ten, began playing guitar. During this time, she also began taking dancing and acting classes. Because of extreme bullying at school, she continued her education through homeschooling, for which she received her high school diploma in 2009.
Her next acting role came in 2006 in an episode of the TV series Prison Break. This was followed by another guest appearance in Just Jordan. In 2007, she appeared as Charlotte Adams in the Disney short show As the Bell Rings. She then auditioned for Disney's television movie Camp Rock at the time, as well as for the TV show Sonny with a Chance, where she successfully auditioned for both.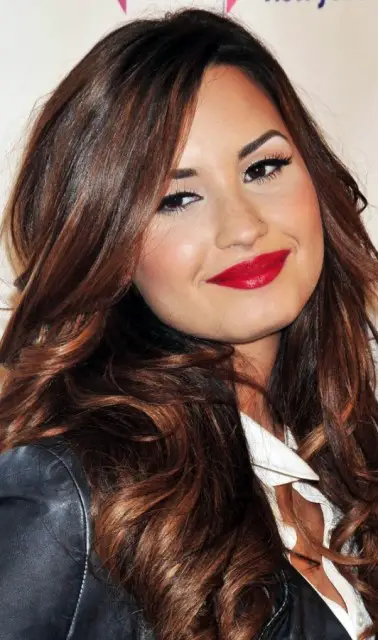 In Camp Rock, she plays the lead role of aspiring singer Mitchie Torres. The film premiered on Disney in June 2008 to 8.9 million viewers, gaining her instant fame. Months later, she released her debut album Don't Forget where it debuted at Number 2 on Billboard 200. The album's lead single "Get Back" received good reviews from music critics.
Following the release of her first studio album, she started playing the role of Sonny Munroe in the Disney show Sonny with a Chance. Her performance in the show received good reviews, with Robert Lloyd of Los Angeles Times saying her acting was "very good", even comparing her to Hannah Montana star Miley Cyrus.
She later starred in the Disney Channel film Princess Protection Program as Princess Rosalinda, starring alongside Selena Gomez. Princess Protection Program became the third highest-rated Disney Channel Original Movie, with 8.5 million viewers.
In July 2009, she released her second studio album Here We Go Again. Reception for the album was mostly positive and it reached atop the Billboard 200. It became her first number one album in the United States. She then appeared in the TV show Extreme Makeover: Home Edition and made a guest appearance in the medical series Grey's Anatomy.
She went on to reprise her role as Mitchie Torres in Disney's Camp Rock 2: The Final Jam. Despite the film's mixed to negative reception, her acting was commended, with Jennifer Armstrong from Entertainment Weekly saying that Lovato's performance was "dependently appealing".
In October 2010, she withdrew from the Jonas Brothers Live in Concert to deal with her physical and emotional issues. She voluntarily entered treatment after she punched a female back-up dancer during a confrontation. She completed her treatment in January 2011. She later said she suffered from bulimia, self-injury and self-medicating with drugs and alcohol.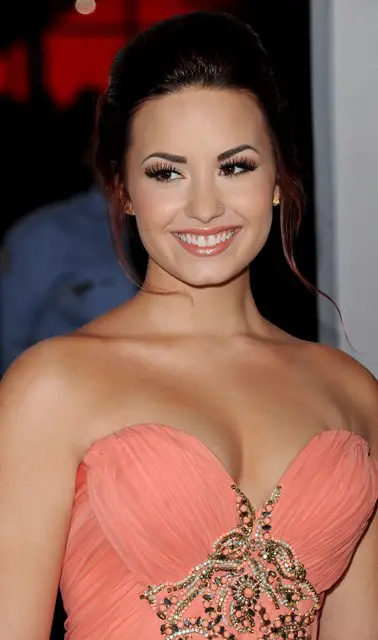 Subsequent Projects, Personal Struggles and Plastic Surgery
She went on to release her third studio album Unbroken in September 2011. Its lead single "Skyscraper" garnered universal acclaim for its message of self-worth in light of her previous struggles.
From 2012 to 2013, she began serving as a judge and mentor in The X Factor. During this time, she played Dani in the TV show Glee. Her fourth album, Demi, was released in May 2013. It spawned the hit singles "Heart Attack", "Made in the USA" and "Neon Lights".
Because of her personal issues, one involving her body image and confidence, she's more vulnerable to plastic surgery claims. One persistent rumor is that of a breast enlargement. Since the singer-actress is just 21, it's also possible that the increase in her cup size may just be a part of her physical development.
However, some observers had noticed that the increase in her cup size is way beyond natural with some plastic surgeons saying that a breast enlargement procedure did happen, as this could be the only explanation for her more prominent chest. Aside from this, it has also been rumored that the Camp Rock star has undergone a nose job as well.
Her original nose was shorter and wider, far different from the current one, which is longer and more elongated. The refinement of her new nose is simply hard to miss, especially if compared to her previous look back when she was younger.