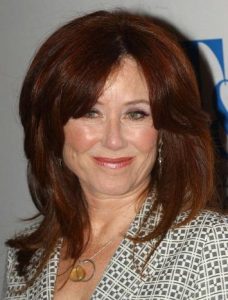 Mary McDonnell is a Hollywood actress who started her professional career in the 1980s. She debuted on the soap opera As the World Turns. She later played Dr. Eve Sheridan on the short-lived sitcom E/R. In 1984, she made her film debut in Garbo Talks. She next had roles in the movies Matewan and Tiger Warsaw. Her major breakthrough came in 1990, playing the role of Stands With A Fist in Kevin Costner's acclaimed film Dances with Wolves in 1990. For her performance, she got Academy Award and Golden Globe nominations for Best Supporting Actress. For her portrayal of May-Alice Culhane in the 1992 movie Passion Fish, McDonnell was then nominated for an Academy and Golden Globe for Best Actress.
She later played First Lady Marilyn Whitmore in the box office hit Independence Day. In the 2000s, she starred as Eleanor Carter on ER, getting her an Emmy nomination. She later became further known for her role as President Laura Roslin on the sci-fi series Battlestar Galactica. At the same time, she played Dr. Virginia Dixon in 3 episodes of Grey's Anatomy. Also in the 2000s, she worked in the films Donnie Darko, Nola, and Crazy Like a Fox. From 2009 to 2012, she became known for starring as Captain Sharon Raydor on The Closer. She then reprised her role on the spin-off Major Crimes, which she played from 2012 to 2018. She simultaneously appeared as Ruby Goldfarb in 4 episodes of Fargo. In addition, she acted in the 2011 films Scream 4 and Margin Call.
The acclaimed actress stays in shape by watching what she puts her body. Now that she's in her 60s, she's more cautious about her food choices, which is why she mostly avoids processed foods. She prefers organic foods as part of her daily diet, which usually consists of whole grains and fiber-rich foods such as fruits and veggies. She also consumes lean protein from healthy sources like chicken and fish. While she doesn't totally deprive herself of some guilty pleasures, like sweets, she makes sure she only does so in moderation.