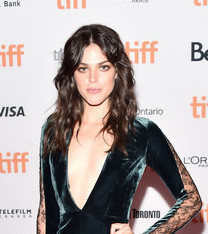 Hollywood star Callie Hernandez had her career beginnings in 2013, appearing in Robert Rodriguez's Machete Kills. Rodriguez then cast her again for the role of Thelma in 2014's Sin City: A Dame to Kill For. She also played the part of Jessie in From Dusk till Dawn: The Series, which was also developed by the director. That same time, she starred in the pilot Members Only.
Afterward, she was cast as Lisa Arlington in Blair Witch. She also played Tracy in Damien Chazelle's La La Land. On the small screen, she starred as Samantha Vega in The Graves. She continued her cinematic career with performances in the movies The Endless and Alien: Covenant, both released in 2017. The following year, she starred as Millicent Sevence in the black comedy thriller Under the Silver Lake.
Hernandez went on to play the part of Amanda in Nicolas Winding Refn's crime drama series Too Old to Die Young. She also simultaneously starred as Nellie in the musical drama show Soundtrack. This year, the actress had a performance in the feature film One of These Days. To add, she's starred in a couple of music videos.
In an interview, Callie Hernandez shares how taking the acting route had prompted her to start living healthily. She said she stopped smoking and started following a macrobiotic diet, which mainly consists of whole grains, cereals, beans, and vegetables. Sticking to this diet, she avoids oily foods, dairy, and meats.
She also eats seafood instead of meat, and snacks on fruits and nuts rather than processed junk foods. "Since I started acting, I had to quit a lot of bad habits," said the actress. "And I started following a macrobiotic diet. My dad was a holistic doctor, so putting good things into my body has always been something I've strived for."