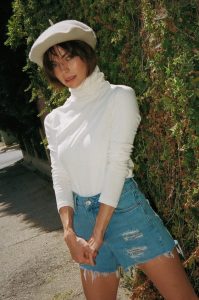 Hollywood star Caitlin Carver debuted as an actress in 2012. Her first television work was in an episode of So Random! At the same time, she appeared in 2 episodes of Nashville. Afterward, she had one-episode roles in Southland, Glee, Parks and Recreation, and Twisted. Her first recurring role was as Mason in the TV series Hit the Floor, which she played between 2013 and 2014.
Afterward, she had a recurring character as Hayley Heinz in The Fosters, playing the role between 2014 and 2018. Her work in The Fosters earned her wider recognition. In 2015, she had her first film role in Impact Earth. That same year, she starred as Becca Arrington in the drama film Paper Towns alongside Nat Wolff and Cara Delevingne. Her next performance on the big screen was in 2016's Rules Don't Apply.
Carver recently became further known for her portrayal of Nancy Kerrigan in the biographical feature film I, Tonya. Back on television, she made guest roles in the TV shows Stalker, Blood and Oil, Heroes Reborn, NCIS, Timeless, Freakish, and S.W.A.T. As of 2017, she plays a recurring character in Dear White People as Muffy Tuttle. Meanwhile, the actress' latest film role was in 2018's The Delta Girl.
The 27-year-old actress maintains her great shape by following a clean diet plan. While she doesn't get into fad diets, she ensures her body gets the nutrients it needs by focusing on eating clean, whole foods. As a habit, she avoids processed, junk foods. She still has indulgences that involve not-so-healthy foods but she has them in moderation and only occasionally. She has seen the positive effects of healthy eating, not only in her body but also in her overall well-being. Hence, staying away from sugary, salty foods isn't that hard because she knows for a fact that her health is at stake. Her go-to healthy meals are oatmeal, salads, fish, chicken, nuts, and lots of fruits.