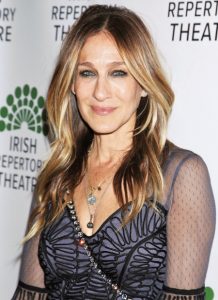 Hollywood star Sarah Jessica Parker had her career beginnings in the 1970s, playing the titular character in the TV film The Little Match Girl. In the '80s, she became more active both on film and television, first starring as Patty Greene in the show Square Pegs. She also had roles in the films Footloose and Girls Just Want to Have Fun. She next joined the main cast of the series A Year in the Life. In the '90s, she starred in the short-lived show Equal Justice and starred in the movies Hocus Pocus, Miami Rhapsody, and Mars Attacks!, among others.
It was, however, her role as Carrie Bradshaw in Sex and the City that brought her to international fame, winning a Primetime Emmy for Best Actress. She reprised her role in the film continuations, Sex and the City and Sex and the City 2. She has also starred in the films Failure to Launch, Did You Hear About the Morgans?, I Don't Know How She Does It, and New Year's Eve. As of 2016, she stars as Frances Dufresne in the HBO series Divorce. Her latest film role was in 2018's Blue Night.
The actress is one of the few ones in Hollywood who's managed to age gracefully by staying in shape. So, how does the actress who played television's iconic character Carrie Bradshaw maintains her health and fitness? She follows a clean diet plan, that's how. Specifically, she sticks to the Hamptons Diet, which means she mostly consumes lean meats, healthy fats, and foods that are low in carbs.
In an interview, she was noted for saying: "I do like feeling fit and healthy. When you're young, you can run around and not really care about what shape you're in because you wake up every day feeling OK. But now that I'm older, I need to do more for myself." Nonetheless, Sarah Jessica Parker still wants to enjoy food as much as she could, so she allows herself for some indulgences – in moderation, of course. Some of her guilty pleasures are pasta, bacon, and cheese.