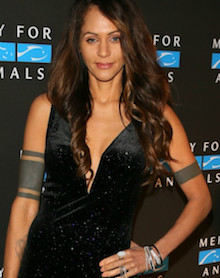 Hollywood star Persia White had her career beginnings in the 1990s. She started her career as an extra in movies and television. Her first credited role was in an episode of NYPD Blue in 1996. She next had one-time roles in Malibu Shores, Saved by the Bell: The New Class, Goode Behavior, and Weird Science, among others.
In 1999, she made her first film role in Blood Dolls. After appearing as Aura in some episodes of Buffy the Vampire Slayer, she stared as Denise Williams in the teen comedy-drama series Breaker High. She next guest-starred in Brooklyn South, Malcolm & Eddie, The Steve Harvey Show, and Clueless. She later played recurring character Kineisha 'K.C.' Burrell in the soap opera Another World.
In the 2000s, she had performances in such films as Red Letters, Earthlings, The Fall of Night, Everyday Joe, and Spoken Word. From 2000 to 2008, she also became known for her role as Lynn Searcy in the sitcom Girlfriends. In the 2010s, she played recurring character Abby Bennett Wilson in The Vampire Diaries. At the same time, she appeared in the films Dysfunctional Friends and Black November, to name a few.
Persia White stays in good shape by following a vegan diet. An animal rights advocate, she was commended as a 2005 Humanitarian of the Year by PETA. With her plant-based diet, she not only maintains her healthy weight, she also achieves a more glowing skin. In an interview, she also talked about how her clean diet is amongst her beauty secrets. Asked what her top beauty secret is, she said: "Good diet. Eating fresh fruit and vegetables can help skin to glow and not breakout. Also, wearing sunscreen is important."