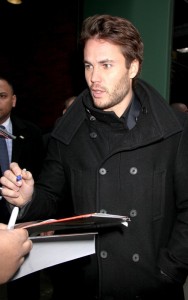 Canadian actor Taylor Kitsch started his acting career when he was already in his mid 2000s, making his screen debut in 2006. His first movie was John Tucker Must Die, followed by Snakes on a Plane and The Covenant, also released that same year. During the same period, he also began playing a starring role on the television series Friday Night Lights, which got him mainstream recognition instantly. Basically, his debut was a strong one with many performances on both film and television. While on Friday Night Lights, Taylor established his movie career with a role in X-Men Origins: Wolverine. A year after the show ended, he starred in his lead role in a feature film in John Carter, released in 2012. That same year, he also starred in other major films, Battleship and Savages. In 2013, he portrayed the lead role in Lone Survivor. Most recently, he's had starring roles on television: on the TV movie The Normal Heart and the Season 2 of True Detective.
The 34-year-old actor is one of Hollywood's hottest leading men. Starting his breakthrough on the small screen, Taylor successfully transitioned into the big screen courtesy of his charm and knack for performing. Over the years, he has developed his body to be the fully toned and muscular man that he is now. Interestingly, before becoming a successful actor, Taylor himself had worked as a trainer and a nutritionist before. After getting lucky as a model, he changed his career and became a full-pledged entertainment personality.
Even when he's not undergoing any specific training for a particular role, the actor gets his kicks from his active lifestyle. Normally, he's into sports so that alone helps him prepare his body for roles in movies.
Just like any other normal actors, Taylor has undergone training for some roles in the cinema, particularly for John Carter and Savages. For the former, he needed to gain a few pounds while for the latter, he had to train with SEALs to get the physique of a soldier where he did three miles for time, two or three hundred sit-ups, a hundred-plus press-ups, all for time.