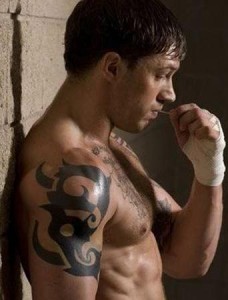 English actor Tom Hardy is now an action figure with prominent roles in The Dark Knight Rises and Mad Max: Fury Road. Starting his career with his cinematic debut in Black Hawk Down, he made appearances in more films and also acted on television with his debut in the miniseries Band of Brothers. He began getting noticed in the late 2000s, especially with his portrayal of Charles Bronson in the biographical film Bronson, released in 2008. He became further exposed with a supporting role in the box office hit Inception. 2010s proved to be a better period for Tom as he got involved in major productions with notable roles, such as in Tinker Tailor Soldier Spy, The Dark Knight Rises, the latter of which he played Bane. His portrayal of Max Rockatansky in Mad Max: Fury Road made him an international star. He's recently starred in Legend.
The 38-year-old actor doesn't always look as he is now. When he was just starting out as an actor, he had a slim body. He's transformed so prominently today that it's hard to recognize his old self when he was younger and thinner. But because being an actor requires one to change their body forms, Tom has got to do what he's got to do. For his role in Bronson, he worked really hard to gain 42 pounds of muscles, which he did, making him really bigger considering he's only 5'9. He trained by doing bodyweight resistance exercises most of the time. Some of these workouts are press-ups, pull-ups and a lot of ab exercises.
The said role also required him to gain some fat so his diet at the time wasn't intended for him to become so lean. He then starred in Warrior (2011). Playing an MMA fighter and ex-soldier, Tom had to look leaner in the movie so he trained to achieve his goal by training like an MMA fighter, doing boxing, kickboxing and muay thai everyday. Then, he played Bane in The Dark Knight Rises, which required him to put on 30 pounds, which he only had three months to accomplish. To achieve his Bane look, he added calories into his diet and did a heavy-lifting weight training workout in a 5×5 regimen.