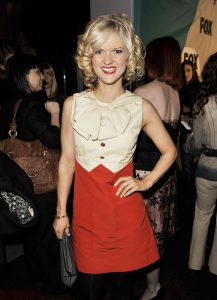 Hollywood star Arden Myrin debuted in the 1996 TV film The Royale. She next made her big screen debut in the comedy film I Think I Do. She later had roles in the movies Deconstructing Harry, In & Out, The Impostors, and 30 Days.
During this period, she also started a career on television. She first starred as Abby Cosgrove on the NBC sitcom Working, airing from 1997-1999. She also appeared in an episode of Just Shoot Me! During the 2000s, she had one-time roles on such TV shows as Friends, On the Spot, Reno 911!, Gilmore Girls, and Kitchen Confidential.
She then became known for her comedic work in the sketch comedy series MADtv. Simultaneously, she had performances in the films What Women Want, Bubble Boy, Highway, Auto Focus, Kinsey, Whistlin' Dixie, Christmas with the Kranks, Heart of the Beholder, Evan Almighty, and The Informant!
As a comedian, she also worked on the TV shows That's So Hollywood and Chelsea Lately. She also appeared as a regular guest on It's On with Alexa Chung. In the 2010s, she had a recurring role as Jocelyn on Suburgatory. She went on to play Dollface Delores on Shameless. Last year, she starred as Regina Sinclair on Netflix's Insatiable.
The 45-year-old actress and comedian stays in shape by being health conscious. For starters, she focuses on eating healthier food options. She tries to stay away from processed foods. Instead, she chooses clean, whole ones. Nonetheless, she doesn't take it to the extreme. She's not into diets that entail depriving herself of food.
"I think you need a little fat in your diet," said the actress. She also doesn't deprive herself of sweets. "Oh, I have a SERIOUS sweet tooth. I am a child of the inventor of the cake diet. I never really met a candy I did not like," she shared. Overall, she eats healthy, mostly greens and whole grains. She tries to lessen her consumption of red meat. She opts for fish or chicken instead.