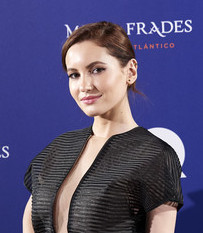 Hollywood actress Ivana Baquero started her career in her native Spain in 2004. During her early years, she had roles in the films Romasanta, Rottweiler, and Fragile. Baquero's first success on screen came after landing the role of Ofelia/Princess Moanna in Guillermo del Toro's fantasy film Pan's Labyrinth. The movie was highly acclaimed and was also a commercial success, gaining her substantial attention. She also received numerous awards and nominations for her performance.
After this, she had roles in the films The Anarchist's Wife and The New Daughter. She continued her acting career in the 2010s, first appearing in short films. She then played supporting roles in the movies Another Me and The Misfits Club. Later in 2016, she starred as Eretria in the television series The Shannara Chronicles. It aired on MTV and Spike from 2016 to 2017, lasting two seasons. She recently returned to the Spanish screen, starring the role of Eva Villanueva in the mystery series Alta Mar. In addition, the actress also starred in the 2019 independent film Feedback.
Spanish beauty Ivana Baquero takes care of herself by exercising and eating clean. Starting her career as a child, she has since learned to nourish her body with healthy meals most of the time. Doing so helps her maintain high energy levels and makes her feel good from the inside out. Her role in The Shannara Chronicles, however, required her to undergo dieting.
Her character was involved in several action-oriented scenes, and in order to appear and feel tough, she needed to eat more proteins along with lots of whole grains, fruits, and vegetables. She cut back on carbs and anything processed during this period, though she indulged in her cravings every cheat day once a week. In an interview, she shared:
"I would also say, because we were on a diet and we had to do our exercise and eat proper foods and everything, but we had this one cheat day every week. That day we could eat whatever we wanted to, so I would be very, very happy that day."