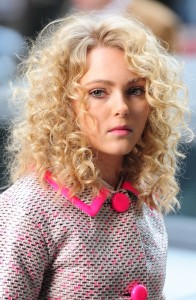 American actress AnnaSophia Robb began her career as a kid first appearing on television commercials. She immediately followed this with guest roles on the small screen. Her first significant role came in 2004 after landing the title character in the television special Samantha: An American Girl Holiday. The following year, she became known among mainstream audiences after playing a supporting role in the box office hit Charlie and the Chocolate Factory. This led her to play more notable roles in well-known feature films, such as Bridge to Terabithia, The Reaping, and Jumper. She returned to television as the lead in the Sex and the City prequel The Carrie Diaries as the young Carrie Bradshaw. She also gained attention for starring in Soul Surfer released in 2011.
22-year-old AnnaSophia Robb faced physical challenges to prepare for her role as a surfer who survived a shark attack in Soul Surfer. The petite star engaged herself in several workouts to be deemed fit to play the said character. In addition, she followed a more disciplined diet plan, which consisted of mostly lean protein to help her develop her muscles. Foods rich in protein, such as tuna, turkey, and chicken were some of the foods part of her dietary regimen.
She also made sure she consumed plenty of spinach and broccoli. It also helped that she's fond of fruits, which are high in fiber. This provided her sufficient energy to help her with her physical training. Her meals were divided every 3-4 hours, resulting in a higher metabolism, which of course produced fantastic outcome. Because she felt really good afterwards, the young actress vowed to maintain such healthy living to not only look great, but to also feel great even when she's not filming. She intends to eat healthy on typical days because ensuring her well-being is more important than eating junk foods.