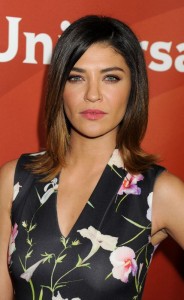 American actress Jessica Szohr began her professional acting career in 2003 with both works on television and film. It took her a few more years to land recurring roles on the television shows What About Brian and CSI: Miami in 2007. It was also around the same time that she got the role of Vanessa Abrams in Gossip Girl. The show's popularity secured her recognition among viewers, being a regular cast member from seasons 1-4. She continued to appear as a guest star in the show's subsequent seasons. She then busied herself with films in the 2010s, acting in Piranha 3D, I Don't Know How She Does It, Tower Heist, The Internship, and Two Night Stand. Her most recent work on the big screen was in Ted 2 released in 2015. Also as of 2015, she stars as a recurring character in Kingdom.
The former Gossip Girl star Jessica Szohr radiates with her remarkable beauty and noticeable knack for acting. Standing at 5'5, the 30-year-old actress also impresses her fans by maintaining her slender figure, which she achieves and maintains through healthy lifestyle, that is a combination of exercising and healthy eating. Though Jessica admitted that she's not really the type who can resist pizza and french fries, she tries to balance it out with working out.
Speaking of balancing, she makes sure she doesn't give in to her cravings anytime she wants. In an interview, she said: "I think it's balance. I try during the week not to eat whatever I want, kind of like, eat healthier. And on the weekend its like, you know what? I'm going to eat french fries." When she's on her "healthy week", she mainly consumes juiced vegetables and tons of fruits. She's also fond of eating egg whites in the morning for breakfast. She usually has salad for lunch and then eats pasta for dinner.