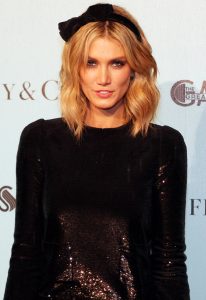 Aussie celebrity Delta Goodrem first pursued acting in the 1990s. She debuted in an episode of the sitcom Hey Dad..! She next had guest roles in A Country Practice and Police Rescue. In the 2000s, she started her musical career with the release of her debut studio album Innocent Eyes in 2003. She next released her second album Mistaken Identity the following year.
Between 2002 and 2005, Goodrem also gained popularity for starring as Nina Tucker in the soap opera Neighbours. She then made her big-screen debut playing the lead role in the feature film Hating Alison Ashley. After this, she appeared in the reality talent show Australian Idol and guest-starred in the US primetime soap opera North Shore. In 2011, she had a voice role in Santa's Apprentice. She later starred in the feature film Child of the Universe.
From 2012 to 2013, she was a coach in the Australian version of The Voice. She returned to the show in 2015. Her most recent album, Wings of the Wild, was released in 2016. Goodrem has also appeared in such documentaries as Neighbours 30th: The Stars Reunite and Who Do You Think You Are? Later in 2017, she played Izzy Dreyfus in three episodes of the comedy-drama House Husbands. The following year, she portrayed Olivia Newton-John in the miniseries Olivia: Hopelessly Devoted to You.
Delta Goodrem maintains a healthy figure with a combination of workouts and a healthy diet plan. She does daily cardio workouts and hot yoga to stay slender. Of course, focusing on nutritious foods is just as important, maybe even more. To manage her weight, she steers clear of sugary treats. To avoid mindless snacking, which usually happens when she's busy, she brings almonds and kale chips to keep her full. For her meals, she typically has fish for proteins and healthy fats with lots of salads.