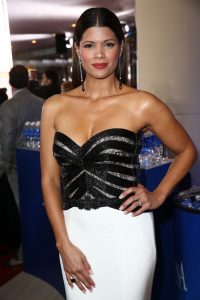 Hollywood star Andrea Navedo had her career beginnings in the mid '90s. She made her debut as a series regular on One Life to Live, playing the role of Linda Soto. She next starred on another soap opera, Guiding Light, as Theresa Sandoval. From 2001 to 2004, she became widely recognized for her role as Detective Ana Cordova on Law & Order. Afterwards, she starred in the film El Cantante. During the late 2000s, she was less prolific in her acting roles. She came back stronger in the 2010s, starting with a guest role on Blue Bloods. She next appeared as Debbie Dominguez in 7 episodes of How to Make It in America. Her next role was as Lorraine Arroyo on Golden Boy. She also starred in the film Once Upon a Time in Queens. Her biggest role thus far, however, is as Xiomara "Xo" Villanueva on Jane the Virgin.
At age 40, the television actress remains slender and gorgeous in her figure. This is because she makes sure she follows a healthy eating habit. In an interview, she said: I try to eat almost the same thing everyday as it makes food shopping and what to eat much easier as well as healthier. Since I don't have much time to cook, I tend to cook in bulk and eat leftovers." Over the course of the week, the actress said she contents herself with eating "a bunch of broccoli and refrigerate to have on hand to sauté as needed."
She added: "Also, to save time, add flavor and stay healthy, I chop fresh garlic in a processor and freeze in a zip lock and break off chunks as needed." Overall, she tries her best to stay healthy by consuming foods that are low in carbs and salt. She also sticks to gluten-free, dairy-free and non-processed foods, too. She does this all throughout the week, except on Saturdays because that's her cheat day.