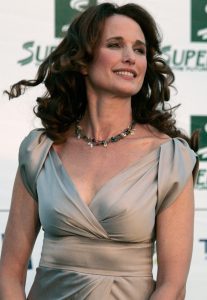 It was in 1984 that Hollywood beauty Andie MacDowell began her acting journey. Her first ever big screen credit was in Greystoke: The Legend of Tarzan, Lord of the Apes. She next joined the cast of the movie St. Elmo's Fire. Her performance in the film Sex, Lies, and Videotape earned her prominence and acclaim. In the 1990s, she starred in the movies Short Cuts, Groundhog Day, Four Weddings and a Funeral, Multiplicity, and Michael, among others. In the 2000s, she also started venturing into television. She mostly starred in TV movies. She also starred in the films Beauty Shop, Tara Road, Inconceivable, and The Six Wives of Henry Lefay. In the 2010s, she starred in the films Monte Carlo, Footloose, and Magic Mike XXL. She's also starred on the short-lived shows Cedar Cove and Jane by Design.
It's amazing how the actress can maintain her beauty despite her nearing her 60s. She doesn't really have astounding secrets to looking young. She just takes care of herself by eating well and exercising. In an interview, she got candid about her fitness routine. She said:
"My exercise obsession is hiking and yoga. I do go to the gym because I can push myself hard and get a fast sweat, but hiking does more for you than just exercise–your cortisol levels are balanced by walking in nature. Yoga can be extremely athletic and I do advance yoga, so my body really gets a strong workout, but that's not the only reason I do it."
"Yoga balances your hormones, calms your nervous system and can change your perspective on life in a positive way. Yoga makes you less stressful and when you're less stressed you look more beautiful, it shows on your face. Hiking and yoga make you much more beautiful person," she said.