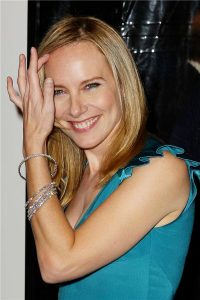 Actress Amy Ryan made her television debut in 1990, appearing in several episodes of the soap opera As the World Turns. She next played Parkie Sasser in the NBC drama I'll Fly Away. She next starred as Chloe Banks in the sitcom The Naked Truth, after which she starred in the miniseries A Will of Their Own. In 1999, Ryan made her film debut in Roberta.
In the 2000s, the actress had roles in such films as You Can Count on Me, Keane, Capote, and Marvelous. She was then praised for her performance in 2007's Gone Baby Gone. She later starred in such films as Dan in Real Life and Changeling. During this period, Ryan was also active on television. She starred as Rebecca Rifkind / Ellen in Law & Order: Special Victims Unit and played Beadie Russell in the award-winning series The Wire.
Between 2008 and 2011, Ryan also starred as Holly Flax in the popular TV sitcom The Office. She also played Adele in 10 episodes of HBO's In Treatment. Also, Ryan starred in the feature films Green Zone, Escape Plan, Devil's Knot, Goosebumps, Bridge of Spies, Central Intelligence, and Monster Trucks. In 2019 and 2020, the actress starred in the movies Late Night, Strange but True, Worth, and Los Girls.
Amy Ryan stays in shape through a healthy diet plan and an active lifestyle. Already in her 50s, she keeps her body strong and fit through regular exercises. As for her workout routine, she tries to keep it simple by trying out various classes in the gym. Usually, she combines cardio and stretches, as well as yoga and Pilates. Meditative exercises have been an essential part of her regimen. Keeping a consistent exercise routine is also a challenge for the actress. That's why she does simple exercises on her own whenever her schedule prevents her from going to the gym. Also, part of her day-to-day is to spend at least half an hour going on a run.