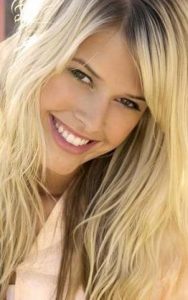 It was in 2004 that Hollywood actress Sarah Wright got her start. Her first ever role on television was as Paige Chase in the Fox sitcom Quintuplets. She later made one-time roles in CSI: Miami and Malcolm in the Middle. She then joined the main cast of the TV series The Loop as Lizzy. Wright became further known for starring as Jane, a recurring character in 7th Heaven.
At the same time, she started her film career. Her first cinematic role was as Lauren McDonald in the 2006 movie All You've Got. She then had roles in the films X's & O's, Made of Honor, The House Bunny, and Wieners. She continued her prolific big screen career with a performance in Surfer, Dude. Around this time, she made notable guest appearances in Accidentally on Purpose, Mad Men, How I Met Your Mother, and The Middle.
In 2011, she played Tiffany McDermott in the CBS sitcom Mad Love, after which she appeared as Millicent Gergich in 5 episodes of Parks and Recreation. Afterward, she played Molly in Men at Work and Laura in Mixology. From 2014 to 2015, she starred as Dennah in the short-lived NBC sitcom Marry Me. She appeared as herself in an episode of Lady Dynamite. Also in the 2010s, she had performances in the films Touchback, Celeste and Jesse Forever, 21 & Over, Walk of Shame, and American Made.
The 35-year-old actress swears by Pilates. Ever since she started doing this workout, she's felt so much better both physically and mentally. "The way I felt when we finished was astounding. All the little pains, and big pains I had been ignoring had been dealt with in some way, and released," said the actress.
"The most positive part of this is that I have a plan, and it doesn't involve a drive to the gym or a personal trainer. All I need is a yoga ball, some blocks, two dogs, two kids, my computer, and a cup of coffee."