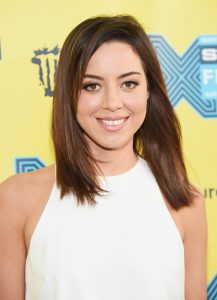 American comedian and actress Aubrey Plaza began doing acting stints in short films. She then got her major break after landing a regular role on the comedy series Parks and Recreation. The show became famous. It was also acclaimed by critics, making her a well-known TV actress. While a regular on the show, she had supporting to starring roles in Funny People, Scott Pilgrim vs. the World, and Safety Not Guaranteed. Most recently, she's acted in the romantic comedy Playing It Cool and the comedy film Dirty Grandpa. Additionally, she will star in the upcoming series Legion.
The comedic actress stands at 5'6 and she also has a slender figure. She's in her 30s now and she tries her best to take care of herself despite the lifestyles in Hollywood. Aside from doing cardio and yoga, she also makes an effort to consume nutritious food. In the morning, she starts her day by having coffee. She says she cannot function unless getting her coffee. She at least gets two or three shots of espresso from her Nespresso machine. She usually makes a double triple–almond milk latte. Sometimes triple. This gets her all energetic in the morning.
She admits she doesn't have enough time for breakfast. So, she typically has an almond milk latte, an apple, a handful of almonds. She has some Greek yogurt, too. This way, she still eats healthy despite not having time to prepare. There are times she's in the mood to have a real breakfast. So, she has latte and makes some toast with almond butter or Nutella and an apple. She has an egg sometimes. She revealed that the food on the set of Parks and Recreations was incredible as well. Healthy foods were always around. This is to make sure the cast members stay fit and healthy. She said she loves prairie chicken salad, eggs, oats-encrusted chicken wings. Plus, there's almond butter and apple snack all the time.