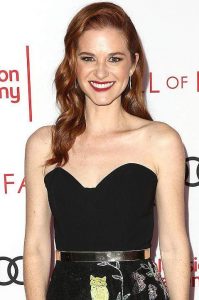 It was in 1997 that actress Sarah Drew started her work in Hollywood. She made her debut as Stacy Rowe in the animated series Daria. In 2003, she made her cinematic debut in the movie Radio. Following this, she became known for her role as Hannah Rogers in the series Everwood. While on the show, she also performed in the film The Baxter. She next appeared in the films American Pastime and Wieners.
From 2009 to 2018, she became widely known for her portrayal of Dr. April Kepner in the hit series Grey's Anatomy. She started as a recurring character in Season 6. She was then promoted as one of the main cast from seasons 7-14. While working on Grey's Anatomy, she's also guest-starred in Supernatural and Miami Medical. In addition, she's also appeared in the films Tug, Moms' Night Out, and Indivisible. It was recently reported that she landed the role of Christine Cagney in the pilot Cagney & Lacey.
The 37-year-old actress maintains a healthy body by following a clean diet plan. Though she doesn't specifically follow a dietary regimen, she makes sure she mostly consumes whole foods. That means she stays away from processed foods as much as she can. She concentrates on having healthy foods – mostly lean proteins, fiber-rich foods, whole grains with fruits and veggies, too. She also tries to cut down on her intake of carbs. She avoids having too many sugary foods as well.
The only time that she craved sweets was during her pregnancy, which, of course, was normal. Even then, she tried her best to control herself by not stocking anything sweet in her house. When it comes to healthy eating, her go-to meal is her husband's "broiled salmon". She loves to eat fish for its protein and healthy fats so that's what she has most of the time. "That with a yummy salad is my favorite healthy meal," she added.