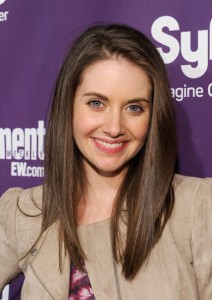 American actress Alison Brie is now a household name courtesy of her notable roles on television. Starting her acting career in 2004 when she was already in her 20s. It was in a short film. Her next role was on the small screen with a guest appearance on Hannah Montana in 2006. It didn't take long for her to get noticed after landing a role on the acclaimed show Mad Men. Simultaneously, she played a starring role on the comedy series Community, garnering her further stardom. Her success on the small screen prompted her to take her career to the next level, auditioning for movie roles as well. With this, she has landed parts in such films as Scream 4, The Five-Year Engagement, and most recently Sleeping with Other People, Get Hard, and No Stranger Than Love. In addition to her acting credits, Alison has also lately started producing with the comedy series Teachers.
The 33-year-old petite actress has found fame in her own right. She is not only remarkable for her beauty but also for her curvaceous figure and for her confidence to how she looks. She works out, sure, but her diet is somewhat more interesting, especially before when she was simultaneously working on two shows, Mad Men and Community. Because the two programs were shot in two different locations, Los Angeles and New York. For this reason, she found herself having two kinds of dietary regimen as the culture of food can be different between cities.
For instance, having a soy latte at a cafe is what she considers a New York Grub diet. She also mentioned that being in New York makes her drink coffee even when she doesn't drink coffee by nature. Being on-the-go, she mostly gets her foods from cafes and restaurants like Starbucks' Naked Juice Superfood drink. When she can, she also prefers eating healthy foods. Some of her favorite healthy snacks are poached pears with Manchego cheese and pecans. For lunch or dinner, her ideal meal would be beet and mâche salad, tuna tartare, French onion soup, and some wine.