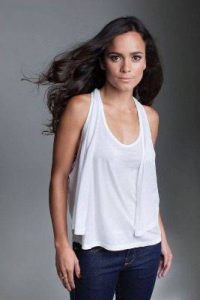 Hollywood actress Alice Braga had her career beginnings in the late 1990s. Her debut was in a short film. In 2000, she gained recognition for her starring role in the Brazilian film City of God. This led her to garner international attention. She next starred in the Brazilian movies Lower City, Drained, and Only God Knows. She later made her Hollywood debut when she played Anna Montez in the movie I Am Legend. She went on to appear in other Hollywood films like Crossing Over and Redbelt.
She continued her career in the US in the 2010s. During this period, she starred in the movies Repo Men, Predators, The Rite, On the Road, Elysium, and The Duel. She also starred in the Australian feature Kill Me Three Times. In 2016, she started playing the lead Teresa Mendoza in the USA Network series Queen of the South. This has since gained her greater fame. Simultaneously, she also starred in the movie The Shack and will star in the upcoming film The New Mutants.
The 35-year-old actress is prolific in her line of work and for every character she plays, she prepares both the physical and the emotional aspects. This means she works out and trains extensively if needed. For instance, her role in the action film Kill Me Three Times got her working out more since she needed to perform stunts on her own. Doing action-oriented scenes only means that she needed to be tougher physically speaking. In an interview, she revealed that she trained herself like she always does being an actress.
She said: "I always train myself and I've done a lot of action films, so it was something that was natural for me. I work out normally and all that, even though in Australia I was a bit lazy, because it was just so beautiful I would go to the beach with wine in my bag and that's it. But normally, I'm kind of ready for it. I did a couple of action films that kind of like made me be ready for these type of things, but for this one, no, I think it was just something that I threw myself into it."