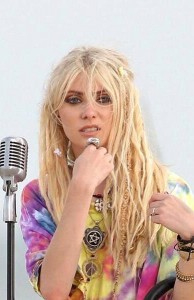 American star Taylor Momsen began her career in the late 1990s when she was around five. After a few years, she became widely recognized as a child actress for her starring role in the family movie Dr. Seuss' How the Grinch Stole Christmas. Her performance in this movie earned her a Young Artist Award nomination. She soon built a prolific career before the age of 10 with roles in We Were Soldiers, Spy Kids 2: The Island of Lost Dreams, and Hansel & Gretel. She went on to transition into a teenage actress and rose to mainstream fame courtesy of her role in Gossip Girl where she was a main character from seasons 1-4. The show's worldwide popularity also proved helpful to her career, though she decided to venture into singing and recording after this, becoming the lead vocals of the band The Pretty Reckless. The band has released two albums since being formed in the late 2000s.
Standing at 5'8, the 22-year-old actress is noted for being multi-talented, from being an actress to singer-musician. Also, she's known for her very thin physique, which is further highlighted by her long stature. Being in the entertainment industry since she was a little girl, Taylor knows a lot of things about being in the show business and that includes taking care of herself because doing the opposite would definitely take its toll eventually.
Being young, she naturally has a fast metabolism, which mainly contributes to her being skinny. Though she doesn't worry about losing weight too much since she doesn't need to, she still make sure her body gets sufficient nutrients so she has the energy to work as a performer. Going on tours must be really exhausting so Taylor makes it up by eating clean and healthy. With this, she supplies her body proteins like tuna and chicken, veggies like broccoli and vegetable juices, as well as rice bran. She's also fond of drinking black tea, unsweetened energy drinks, and snacking on citrus toffees.