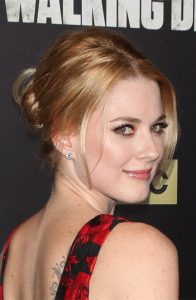 Television and film star Alexandra Breckenridge's career dates back the late '90s. Her first acting gigs were on a few TV movies. She had her first recurring role on the TV series Opposite Sex. She went on to make her first credited role on the big screen in Big Fat Liar. She also worked as a voice actress with a stint on Family Guy. She became further known for her regular role on Dirt, as well as on the short-lived The Ex List. In the 2010s, she had notable roles on True Blood, American Horror Story, and The Walking Dead where she played Jessie.
This American beauty stays notable through her lean figure and remarkable beauty. She does so by making sure she keeps her body fit and healthy. Aside from eating healthy, she makes sure she also exercises as regularly as possible. She believes that healthy eating and working out should go hand in hand. Being a busy actress, keeping healthy and fit is the one thing that keeps her going. She considers working out as something that she needs to do, not to look great but to be generally healthy.
On the other hand, she also admits that it's a challenge for her to exercise regularly. The best thing she can do is try. In an interview, she said: "I started doing Pilates for a little bit. And got sick of it. And started again. I'm not a big workout fan. But I try. I potentially could be showing my ass several times. You can show back, you can show side – you just can't show the bits. You just can't show nipple and hoo-ha, basically." She always make it a point to work out, especially if it's a necessity in a role she needs to portray on film or TV.