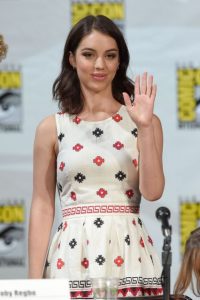 Australian star Adelaide Kane's acting started locally with a starring role on the soap opera Neighbours in 2007. This helped her land another starring role on the American series Power Rangers RPM. Her next starring role was on another show called Pretty Tough. She next starred on the TV film Secrets of the Mountain. She ventured to American screen in the 2010s with a recurring role on Teen Wolf. Also around the same time she began playing Mary, Queen of Scots on Reign. In the movies, she's best known for starring in The Purge and The Devil's Hand.
The Australian beauty keeps her fans more thrilled with her projects. This is all thanks to her engaging beauty and remarkable acting chops. Despite being young (she's only 26), the actress does not stay complacent when it comes to health and fitness. Though she doesn't impose strict rules on her diet and workout regimen, she somehow does not need to because she naturally follows healthy habits. Aside from eating the right foods most of the time, the Reign actress also knows she needs to work out to be completely fit and healthy.
For one, working out for her is not only to maintain her svelte figure. It is also because she wants to stay strong and ensure a healthy well-being. The actress sustains her fit body by doing cardio exercises as often as she could. With her busy schedule, it is sometimes hard for her to allot some time, but she does her best. She loves running and biking. She likes spending time at the gym, but she also likes exercising outdoors. She's also learning to challenge herself by doing some strength training to be stronger and develop her muscles. When she has free time, she also enjoys outdoor activities with her friends. This serves as a fun physical variety for her.