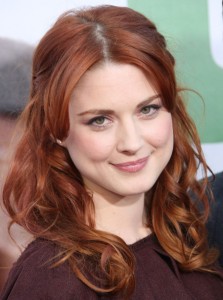 American star Alexandra Breckenridge began her acting journey when she was 16, making her acting debut on television in 1998. In the next few years, she appeared on various TV shows while her movie debut was in 2002 when she was already in her 20s. Though she had some acting gigs on the big screen, it was really on the small screen that she flourished as an actress where she had starred in the made-for-television movie Romy and Michelle: In the Beginning. It was also around the same time that she began working as a voice actress, working on the popular animated show Family Guy. Her break on television came in 2007 after getting cast for a main role in Dirt. The show, however, got cancelled after two seasons. Still, it earned her significant attention. Since then, she's had notable roles in other TV shows (like in American Horror Story) and now stars as Jessie in The Walking Dead.
Standing at 5'7, the 33-year-old actress has a modelesque figure in addition to having a pretty face. This, combined with her knack for acting, gave her the opportunity to shine in Hollywood. Now in a worldwide hit show, the actress can expect to be even more sought-after than ever. Now how does she maintain her slender figure? For sure, Alexandra does this through workouts and healthy eating, which she has started years ago. After all, she's in her 30s now and it's more crucial that she takes care of herself and manage her weight because her metabolism may have gone slower due to ageing.
Despite her busy time as an actress where she usually stays on the set of the television shows she's working on, she does not forget to stay healthy by only eating nutritious foods. Most of the time, she only consumes fruits and veggies to fill her up. She maintains the same healthy eating habits even when at home, eating such foods as oatmeal with flaxseeds, whole-grain toast, chicken sausage, brown rice, quinoa, dark green salad, curried chicken salad, and other organic foods. Of course, she indulges into her craving occasionally, that's why she has a cheat day. On this day, she eats pizza or hotdogs.