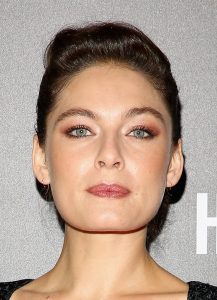 Hollywood star Alexa Davalos debuted as an extra in the 2002 film Coastlines. That same year, she had her first TV role in an episode of Undeclared. She then played recurring role Gwen Raiden in Angel. At the same time, she portrayed Teddy Sampson in the TV film And Starring Pancho Villa as Himself. In 2004, she appeared in the movie The Chronicles of Riddick, which was her first big screen role.
She then landed her first starring role on the small screen — as Samantha Carlton in the drama series Reunion. She next starred in the TV film Surrender, Dorothy and appeared in the pilot of Raines. She went on to have performances in the movies Feast of Love, The Mist, and Defiance. In 2010, she portrayed Andromeda in the film Clash of the Titans.
She also became more active on TV, starring as Jasmine Fontaine in the short-lived show Mob City. She gained wider recognition from 2015 onwards courtesy of her role as Juliana Crain in the Amazon series The Man in the High Castle. This year, she played Beth Quinn in 2 episodes of The Punisher.
The actress stays in shape by following a healthy lifestyle. For starters, she sticks to a clean diet plan. Her meals are mainly comprised of fresh, organic foods. Generally, she avoids processed foods. Instead, she keeps her diet plan simple — lean meat, whole grains, plenty of fruits and vegetables, and lots of water for constant hydration. She also consumes healthy fats and complex carbs to make sure her body gets all the nutrients it needs.
In the morning, she typically has an egg, black coffee, and some berries or a banana. Sometimes, she's in the mood for oatmeal. Lunch is usually chicken or fish with salad. She rarely has red meat. She prefers her dinner to be lighter, so ideally a sandwich with soup and veggies. Occasionally, she indulges in red wine during dinner.