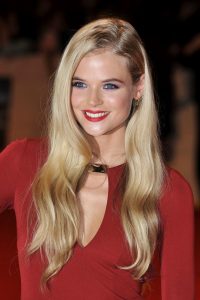 English star Gabriella Wilde had her career beginnings in the late 2000s. She made her debut in the movie St Trinian's 2: The Legend of Fritton's Gold playing the role of Saffy. She next made her first television appearance in an episode of Doctor Who. She next starred in the film The Three Musketeers. In the film, she portrayed the role of Constance Bonacieux. After this, she landed the role of Sue Snell in the 2013 remake of Carrie.
Her first lead role was as Jade Butterfield in the 2014 remake of Endless Love. Around the same time, she starred in the straight-to-video film Squatters. Thus far, this is her last film credit. In 2016, she started playing the role of Caroline Penvenen in the series Poldark. She started as a recurring character in the second season. Since its third season, she's joined the main cast of the said series.
The 29-year-old actress stays in shape by sticking to a healthy lifestyle. This means she's conscious of what she eats and she also tries to work out as regularly as her schedule permits her. Now that she's a mother of two, the actress and model also becomes more health conscious. While she was more careless when it came to her diet before, it's no longer the case since she now acknowledges the importance of a clean diet.
She does this not only to maintain her healthy weight but to also sustain her overall health and wellness. Eating healthy also improves her mood. In an interview, she admitted to being more health conscious now that she's a mom. She said: "I am definitely paying a lot more attention to being healthy, and being conscious of what I'm eating and using on my skin. You've got to remember to focus on yourself, even while you're looking after your baby."