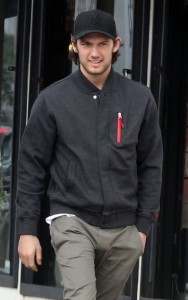 25-year-old English actor Alex Pettyfer started his career as a model. When he decided he wanted to try acting, he did so by performing on television in 2005, playing the lead character in Tom Brown's Schooldays. Afterwards, he got lucky after landing the main role of Alex Rider in the movie Stormbreaker, released the following year, which introduced him to a wider audience. Despite the movie's poor box office results, it somehow gave Alex the break he needs to be further known among moviegoers.
This was followed by performances in Wild Child and Tormented. In 2011, he achieved widespread recognition for his starring role in I Am Number Four. Subsequently, he starred in Beastly, In Time, played Adam in Magic Mike, Thomas Westfall in The Butler and David Elliot Endless Love. He will star as Jerry Schilling in the upcoming movie Elvis & Nixon, to be released 2016.
Standing at 5'11 1/2, the actor is known for his lean and buff body. Despite only being in his mid 20s, the actor surely knows how to take care of himself to maintain his great body while staying fit and healthy at the same time. Alex's workout routine focuses on narrowing his waist, enhancing his specs and his broad back and shoulders. To broaden his back and shoulders, he does pull-ups up to 12 reps every session. Another effective way to make the shoulders stronger is through doing Dumbbell Shoulder Presses. Lateral Raises on a Dumbbell, on the other hand, increases anterior delts and medial delts growth, which, of course, is substantial for shoulder enhancement.
In improving his square pecs, Alex relies on such routines as bench presses with the use of a dumbbell. When it comes to narrowing his waistline, the actor take long walks in the morning, in addition to running. These routines accompanied by the previously mentioned exercises are what makes him lean, strong, and develop a chiseled body. Running, most particularly, prepares the body for the more intense workouts throughout the day.