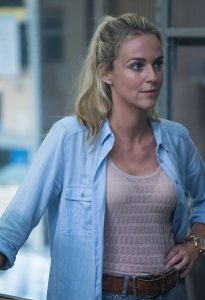 English actress Miranda Raison started her career, initially acting in the 1999 TV movie Suzy Q. In the next couple of years, she mostly played one-time roles in several TV shows, which include Heartbeat, Perfect Strangers, Dark Realm, Emmerdale, and Holby City, among others. She later came to prominence for starring as Jo Portman in the BBC One series Spooks. She starred on the said TV series from 2005 to 2009.
Also during this period, she made her big-screen debut in the film Match Point. She next had performances in the films Deuce Bigalow: European Gigolo and Land of the Blind. After this, she guest-starred as Tallulah in 2 episodes of Doctor Who, as well as played the role of Linsey in the British sitcom Plus One. In the 2010s, she starred as Abbey in the TV show Married Single Other, Emily in Sugartown, and Isolde in Merlin.
She next played the role of Vanessa in the movie My Week with Marilyn. Raison then played DI Georgina Dixon in the comedy-drama series Vexed. As of 2013, she voices the role of Millie in the children's series Thomas & Friends. She became further known for playing Caroline Fowlds in the US series 24: Live Another Day, as well as acting in the films I Am a Soldier, AfterDeath, Breathe, and Murder on the Orient Express. She will star in the upcoming film Artemis Fowl.
Miranda Raison reveals her daily diet in an interview. "I find that eating two main meals a day works best. The first, after a strong coffee (no green tea for me), is toast with Marmite or an egg," said the actress. "I crave savoury things in the morning and like lots of salt. Have fresh pineapple or melon, too." She also likes eating apples and chocolate gingers for snacks. She drinks lots of water daily and mostly eats veggies instead of meat.