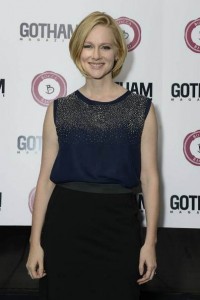 American actress Laura Linney began acting prolifically on the stage in the early 1990s before transitioning into the screen a few years later. She first achieved mainstream recognition for her starring roles in Congo and Primal Fear, released in 1995 and 1996, respectively. Her starring role in The Truman Show in 1998 gained her acclaim. In the 2000s, she's best known for performances in You Can Count on Me, The Life of David Gale, Mystic River, Love Actually, and The Exorcism of Emily Rose, among others. She has also built her career on television, receiving acclaim for her performances on the TV movie Wild Iris and the TV series Frasier. In the 2010s, she was best known for her role on another TV series, The Big C. She will star in the upcoming Teenage Mutant Ninja Turtles sequel set to be released in 2016. She is a three-time Oscar nominee for her performances in You Can Count on Me (Best Actress), Kinsey (Best Supporting Actress), and The Savages (Best Actress).
Now in her 50s, most people will agree that the acclaimed actress is aging pretty well. Her actual age doesn't show and her beauty still radiates from within. Thanks to her great care of herself, Laura manages to stay not only flawlessly fantastic, but also fit and healthy. Interestingly, she was first confused about what diet to follow, whether she was going to be a vegetarian or a vegan. She claimed Alicia Silverstone, fellow actress and friend helped her decide for herself courtesy of Silverstone's book The Kind Diet.
From this point, she decided to not totally ban meat from her diet, but only opted to limiting her meat intake, which made her feel so much better. In an interview, she said that she doesn't feel as heavy as before and she feels her digestion is better. This diet also made her skin and hair better, which of course, is awesome. In addition, she claims not eating dairy makes her feel healthier, motivating her to continue her diet. However, she finds it hard to totally avoid eating dairy products as she's very fond of cheese, so she does once in a while. She believes that food is not only nutritional but also mental, so she indulges in her cravings once in a while. Aside from cheese, she also loves chocolates.