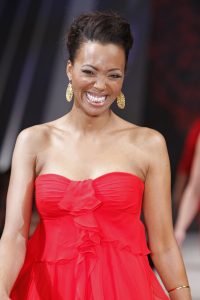 In 1996, actress Aisha Tyler debuted in an episode of Nash Bridges as an extra. Her first credited role was in an episode of The Pretender. Later in 2000, she had her first movie appearance in Dancing in September. She was next hired to host the TV shows Talk Soup and The Fifth Wheel. Right after this, she played Mother Nature in the film The Santa Clause 2. She then became further recognized for playing Dr. Charlie Wheeler in the sitcom Friends, after which she played Mia Dickerson in CSI: Crime Scene Investigation.
In 2005, Tyler appeared as Marianne Taylor in 24, as well as played Andrea Marino in 24. The following year, she received praise for her performance in the TV film For One Night. During this period, the actress also had roles in the movies Never Die Alone, The Santa Clause 3: The Escape Clause, .45, Death Sentence, Balls of Fury, Meet Market, Bedtime Stories, and Black Water Transit.
In the 2010s, she first starred in the feature film The Babymakers. Tyler has also ventured into voice acting. Since 2009, she's been playing Lana Kane adult animated sitcom Archer. She continued her acting on TV as well, starring as Major Jones in XIII: The Series. Plus, she landed more hosting jobs with The Talk and Whose Line Is It Anyway?. As of 2015, she plays Dr. Tara Lewis in Criminal Minds. In 2017, she made her directorial debut in the film Axis.
From a young age, the actress has been active with sports and several outdoor activities. It's something she has incorporated into her daily life, which is why it's not hard for her to engage in all kinds of physical activities as part of the Aisha Tyler workout routine. "I played outside a lot, but I didn't become an athlete until high school, when I ran track and cross-country, and competed on the swim team during the off-season. Then, in college, I rowed crew," said Tyler. Now in her late 40s, she combines exercise and her love of sports to stay fit.