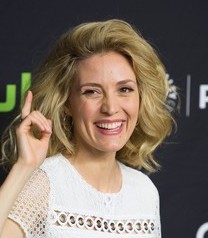 Canadian star Évelyne Brochu started her entertainment career in 2006, appearing with a small role in the film Cheech. On TV, she first starred in the soap opera The Promise (La Promesse). Later in 2009, she appeared in Denis Villeneuve's film Polytechnique. This was followed by more roles in the Canadian films Thrill of the Hills, Café de Flore, and Inch'Allah. Between 2013 and 2017, she became best known for her role as Delphine Cormier in the acclaimed series Orphan Black.
During this period, she also had performances in the films Tom at the Farm, Pawn Sacrifice, The Wolves (Les Loups), Miséricorde, Le Passé Devant Nous, and Rememory. She also simultaneously starred as Aurora Luft in the spy thriller series X Company. Afterward, she starred in the web series Féminin/Féminin. Her most recent work on TV was in the miniseries Thanksgiving. Meanwhile, her latest film role was in 2019's A Brother's Love. Brochu has also made performances in the theatre.
Évelyne Brochu keeps her body fit and healthy by eating clean and living an active lifestyle. While she doesn't follow any intense workout routine, she makes sure she has enough physical activities daily to count as exercise. She considers something as simple as walking as a form of workout. She's not into doing any rigorous physical training but she always keeps herself busy with simple activities.
In an interview, she talked about not forcing her body for workouts. "I think a lot of answers come from the body. When you feel stuck and you force yourself to move your body, things shake up," said the actress. "I think physical activity, whatever it may be, is necessary to the body and mind, it moves things around. That's why I try to move as much as I can, walk, go the gym, nothing special, just get moving every day."