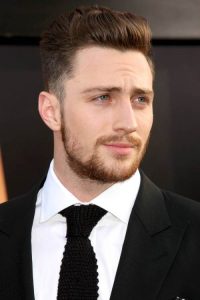 Aaron Taylor-Johnson started acting on the screen as a little boy and decided to continue pursue a Hollywood career in his later life. His first notable role was when he was a teen in The Illusionist. Soon, he was recognized for his work on the big screen, beginning with his portrayal of John Lennon in Nowhere Boy. This performance won him an Empire Award for Best Newcomer. It was in 2010 that he obtained his big break, playing the title role in the film Kick-Ass. The film was a box office hit, earning him stardom. He went on to have adult-oriented roles in Savages and Anna Karenina. He also starred again in Kick-Ass 2 and played Quicksilver in Avengers: Age of Ultron.
The young actor's physical looks in the present is far from his teenage self. Everyone began to know him as the skinny, awkward teen who inadvertently became a superhero. Lots of things have changed since then, that includes the size of his biceps and his now magnanimous chest. With his roles in mostly action-oriented projects, it was only fitting for the actor to work harder, physically and mentally to buff up his appearance. After all, he needs to look like the man that he has grown.
In Savages, it was obvious that Aaron's physique has changed. To achieve this, he increased his intake of proteins, as well as fats and calories to increase his muscles. Later, he maintained this figure as it certainly makes him look better. In general, a balanced diet was the key for this improvement in his body. It was also reported that he follows a 6-meal per day program to give his body all the nutrients it needs. Amazingly, eating bigger breakfasts also helps, as well as the integration of protein shakes into his diet.