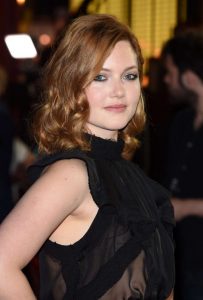 Actress Holliday Grainger had her career beginnings in the mid-1990s. During this period, she had roles in the shows All Quiet on the Preston Front and Roger and the Rottentrolls. She got her first starring role on the small screen as Megan Boothe in the series Where the Heart Is. She later acted in the TV movies Johnny and the Bomb and The Bad Mother's Handbook. She also appeared as Stacey Appleyard in 4 episodes of Waterloo Road. She later starred in the British miniseries Demons.
In 2009, she made her film debut in Awaydays. In the 2010s, she became known for playing Lucrezia Borgia in the show The Borgias. She later portrayed Bonnie Parker in the miniseries Bonnie & Clyde. Simultaneously, she also had notable performances in the movies Jane Eyre, Anna Karenina, Great Expectations, The Riot Club, and Cinderella. She also recently starred in the movies The Finest Hours, My Cousin Rachel, Tulip Fever, and Home. In addition, she plays Robin Ellacott in the new series Strike as of 2017.
Aside from eating right, the actress takes care of her body and health in general by working out. She doesn't always find the motivation to do so but she knows for a fact that she needs to. In an interview, she revealed how she realized she needed to continue her workout regimen. "I used to go to the gym a lot. Now I hate it, but I do have to exercise," she said.
She went on to say: "The past few years my metabolism has gone like, "Oh, I'm getting old!" And I can very easily put on weight. I mean, I binge horrendously occasionally, but I just have to make sure I go for a run the next day." For her, it's all about balance and listening to what her body tells her.