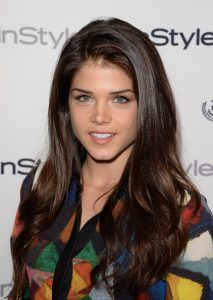 It was in 2009 that Canadian star Marie Avgeropoulos started her acting journey. Her first movie role was in I Love You, Beth Cooper. At the same time, she made her television debut in Supernatural. Afterward, she made more guest appearances in a couple of shows. She also appeared in the TV movie Sorority Wars.
In the 2010s, she had roles in the films Percy Jackson & the Olympians: The Lightning Thief, Hunt to Kill, and 50/50. She later had a recurring role as Samantha in The Inbetweeners. She next appeared as Kirstie Nelson, a recurring role in the show Cult. She became further known for her role as Octavia Blake in the television series The 100. She's been part of the show's main cast since 2014. She has also starred in the feature films Tracers and Dead Rising: Endgame.
The 31-year-old actress stays in shape by sticking to an active lifestyle. She's always on-the-go and takes the time to take care of herself by exercising as regularly as possible. To stay fit, Marie typically does kickboxing and Zumba. She also enjoys outdoor activities such as fishing. In an interview, she also shared about some of her fitness activities. She explained:
"I'm an adrenaline junkie, personally. I've always been a tomboy growing up in Southern Bay, Ontario. I've always been into dirt biking, I ride a motorcycle, I like to horseback ride, snowboard, and wakeboard… so anytime I get the blood moving through my veins and I'm able to apply that to a role, it's a blessing for me."
Because of her active lifestyle, the Canadian beauty is able to maintain her slender figure. She also works out not only to sustain her healthy weight but to also improve her strength. It's somehow needed for her role in The 100 since the show requires her to undergo action-oriented scenes.